Guo Taiming's million robots
It's reported by <Wall Street Journal> that since Guo Taiming, CEO of Foxconn, announced "Million robots" plan, some workers were affected, the assembly line of 20-30 people reduced to 5. However, for this controversial manufacturer, putting machines into work, is not only for reducing complains from employees, or for controlling manpower cost. A former Foxconn employee told the reporter, the R&D of automation manufacturing equipment involved hydraulic cushion, mechanical control, information control and other items. If technology was promoted successfully, Foxconn can sell whole sets of automation manufacturing equipment, Guo aims not only to be an OEM factory.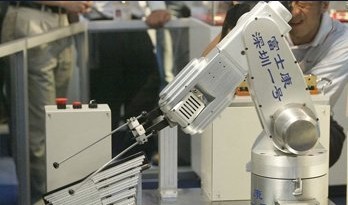 Will Foxconn be a high-tech enterprise selling robots? No declaration was heard from Foxconn. But the reporter have seen from official website of Foxconn that the words Technological Transformation" were the most mentioned as an key target of Foxconn."I wish 300,000 arms could be equipped by 2012, a million by 2014, the first batch of complete automation factory could be built in 5 to 10 years, and the simple working procedures could be replaced by automation in few years", expressed by Guo. As it's know by reporter, arms have been used on some production lines at Foxconn since last year, currently, "robots" from media reports accomplished simple and easy task more often like components transportation. "The customized production could be available when we have enough technology and production capability, so Foxconn might have another business as equipment manufacturer. " one insider from Foxconn expressed. Comparing with the rapidly-increasing manpower cost, the cost of robot is still high.


Analysts predicted that the minimum annual cost for building a automation factory could be 2.1 billion USD, even 10 billion USD more, while such cost in Foxconn was kept at about 3 billion USD, but robots could bring high repayment to Foxconn. It has become a trend that robots being employed, the International Federation of Robotics (IFR) expressed that the sales of robot in 2011 increased by 38% on year-on-year basis. It helps to reduce global production cost by mass usage of robot. As it's reported recently, Foxconn wanted to extend its production line to North-American market, obviously which was based on the increasing of automation production rate. (Written by Liu Yinhua, translated by Michael Wen, the original Chinese text is from Beijing Morning Post.)
For reproduction, please specify from this website:http://www.autoagv.com/Industry_News_14721981.html